With damaging rumors swirling around his legacy in the build up to Super Bowl XLVII, Baltimore Ravens linebacker Ray Lewis spent much of Tuesday's media day adamantly denying his use of banned substances, and reinforcing his claim that the antlers sprouting from his right tricep grew from natural causes.

"This week is about the Super Bowl. I don't even know why I'm answering questions about my arm-antlers," spoke a defiant Lewis.

Lewis suffered a tricep tear on October 14 that many doctors and NFL insiders believed to be career threatening, but in true Ray Lewis fashion, he inspired those around him with a speedy recovery that nobody thought possible. However, a report surfaced late last week in which Mitch Ross, co-owner of the Sports With Alternatives To Steroids corporation (SWATS), describes preparing a recovery cocktail for Lewis featuring the chemical IGF-1. Known primarily in deer-harvesting circles, IGF-1 is an antler extract known to rapidly increase muscle growth and shorten recovery time. It's on the NFL's list of banned substances, and Lewis denies ever using any illegal chemical for an edge.

Complicating Lewis' denial is the unmistakable presence of healthy deer antlers bulging from the spot of his injury. "I never met Mitch Ross," emphasized Lewis. "Man's body changes through his life from hard work and the grace of God. I woke up one morning and had shiny antlers on my forearm, I don't question it. I just hope they can somehow help us win this game."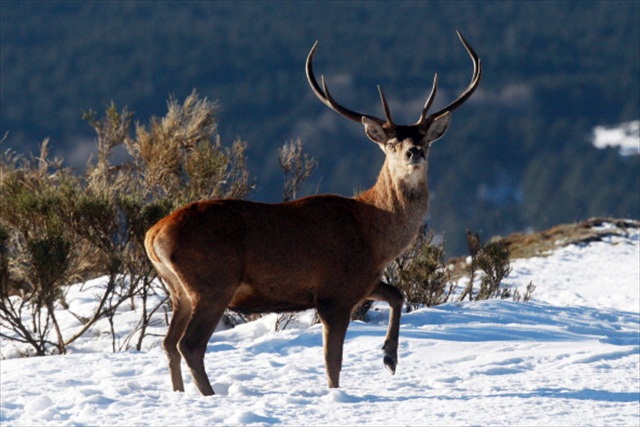 The San Francisco 49ers, the Ravens' Super Bowl opponent, are less than pleased with this new development. "It's not so much the antlers that worry me," fretted 49ers coach Jim Harbaugh, "we can work around those. But it's mating season. Ray's gonna be loaded up with the sexual vigor of a wild beast, and our players are just supposed to deal with that?"

Lewis had a lot to say in his defense but unfortunately much of it was missed. His portion of media day was held in the Chickaree woods just outside of New Orleans so he could graze freely without feeling anxious, and it was hard for the media to keep up. "I never failed a drug test. This is just like in 2000," reminisced Lewis, stopping for a drink in a shallow brook. "They came after me for murder and it wasn't true. The evidence wasn't there, it's not there now."

Lewis was comparing this recent incident to the first major controversy in his storied career. 13 years ago Ray and two of his friends were charged in a double homicide case. He avoided jail time by testifying against his friends and pleading guilty to obstruction of justice, but the NFL has been keeping a close watch on his behavior since the trial.

"It's true that he never failed a random drug test for deer antler extract or any other banned substance," said NFL legal analyst Jerome Griggs, "but that fact can be misleading. Those tests are just like the random homicide tests we've given Ray since 2000. All they prove is that he hasn't contributed to a murder in the last 30 days. It's easy to game these things out."

The Ravens will play in the Super Bowl on Sunday and Lewis will be their middle linebacker, calling out the defensive plays and trying to will his team to their 2nd championship in 12 years. Whether the antlers help or hurt his team's cause remains to be seen, but either way Ray can't wait for kickoff.

"This is what you play for. I can't wait for the game to start and for OH SHIT!"

The interview ended abruptly in the middle of his thought, as the sound of a gunshot sent Lewis prancing deep into the Chickaree brush.
Mike johnson is a writer in Chicago and can be reached at MikeJohnson683@gmail.com