Let me preface this by stating I do not believe there is one specific draft strategy that you must adopt in order to win your fantasy championship. That holds true in regards to your opinion on saves, the single category that enchants us all. I am a bit more inclined to stock up on closers in roto leagues and H2H leagues that factor in losses and K/9 but much less likely to overspend in leagues that count quality starts. Personally, I remain aware of saves from draft day until the final week of the season, and at any given point I am usually either all in or booting the category completely.

Those in rotisserie leagues should go right ahead and chase the dragon, but generally winning or losing saves is just a single category while your relievers can also have a major influence on ERA, WHIP, and K's. At this point in the season you should have a pretty good idea of what your team is capable of, so let's place the closers into tiers for this point on and determine how to approach saves the rest of the way.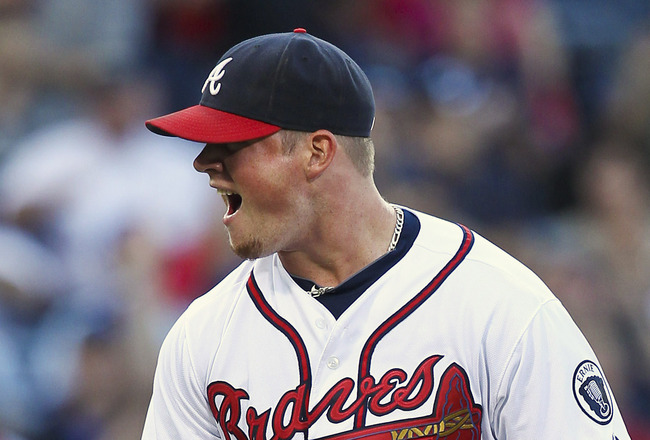 The Mariano Riveras of 2012 - no pun intended

Craig Kimbrel
Jonathan Papelbon
Jason Motte
Kenley Jansen
Aroldis Chapman

The Levi jeans and Ford trucks of the closers world - Solid and reliable

Joe Nathan
Joel Hanrahan
Santiago Casilla
Rafael Soriano
John Axford
Rafael Betancourt
Tyler Clippard - Nationals just announced Clippard will retain the role even after Storen proves he is healthy

Huston Street
Addison Reed
J.J. Putz
Chris Perez
Heath Bell
Jim Johnson

Slightly safer than Enron

Fernando Rodney
Brett Myers
Jonathan Broxton
Jose Valverde
Alfredo Aceves

Committee Situation

Ernesto Frieri, Scott Downs
Tom Wilhelmsen, Brandon League
Ryan Cook, Brian Fuentes, Sean Doolittle
Shawn Camp, Carlos Marmol, James Russell
Casey Janssen, Francisco Cordero, Jason Frasor

Although Frieri is not a lock to be handed the remainder of close chances, he K's batters at a high rate so will retain value regardess.

Injuries

Bobby Parnell - Frank Francisco DL (oblique)
Glen Perkins, Jared Burton - Matt Capps DL (sore shoulder)

The key to the all or nothing route with closers is minimizing wasted stats. If the core of your relievers come from the bottom of the barrel Enron tier or you continue to lose saves a majority of the weeks, than it might be time to consider making moves. I would 100% test the market and gauge interest in saves. Although it is always difficult to give up two players for a top of the line stud in a trade, upgrading a bat by pairing him up with a closer increases the likelihood of that possibility. Cleaning out shop will allow you to upgrade the rest of your squad, and than you can fill your RP spots with top of the line 8th inning guys. See below for some non-closer relievers to target due to their quality ERA, WHIP and/or high strikeout rates:

Sergio Romo
Mike Adams
Vinnie Pestano
Joaquin Benoit
Jason Grilli
Darren O'Day
Johny Venters
David Robertson
Antonio Bastardo

Along a different route, if you own two closers from the top two tiers but are only winning saves half the time than consider trading for another closer. Although relievers generally only pitch 50-80 innings, three top end closers will combine for the numbers of a true ace. As I said before, the key to a championship season is minimizing wasted stats and that shift in value will put you over the edge.

Happy trading and good luck ladies and gents!
Follow me on twitter @HisDudenessOfNY